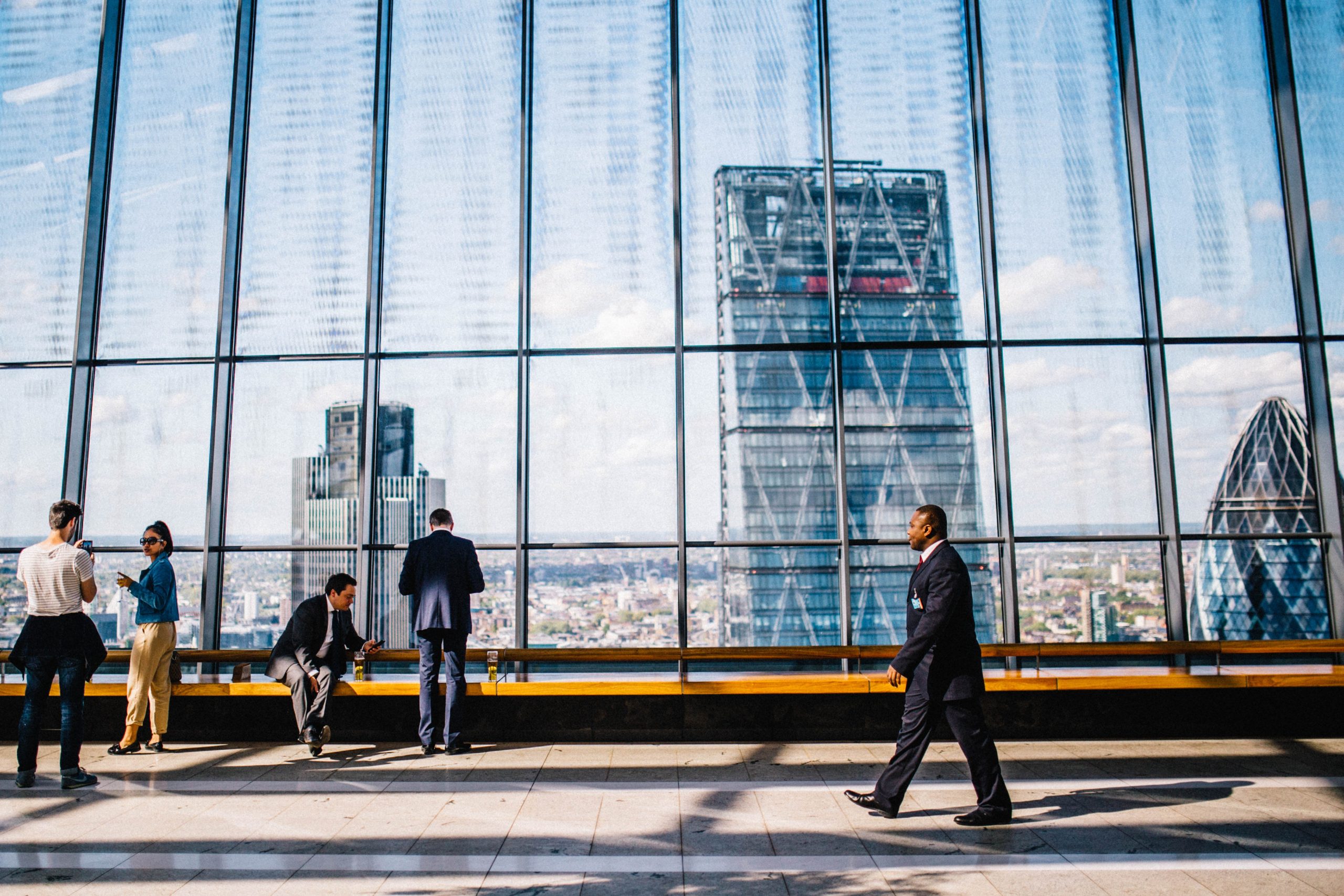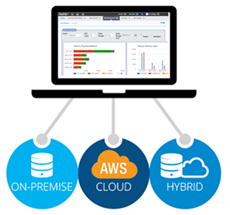 The Informatix RAPID™ solution is a state of the art payment processing system that can be configured for any type of payment collections, including child support payment for State Disbursement Units (SDU). RAPID™ serves as a central processing hub that pulls all project components together. From paper to electronic collections, RAPID™ is the engine that effectively and accurately processes, tracks, and records collections received from payors. The current release of RAPID™ solution is operating in seven, soon to be eight State Disbursement Units (SDUs) across the country. Our patented solution provides clients with the speed, accuracy, streamlined processing, and security necessary in today's ever-evolving payment processing environment.
RAPID™ integrates hardware, the latest technology, and an image-based workflow software to provide a fast and accurate system for payment processing. Its flexible architecture lends itself to multiple deployment options: on premise, on cloud, or hybrid.
RAPID™ offers proven secure and complete transaction processing, from mail opening to document imaging, payment receipt, validation and reconciliation, suspense management, to customer service, and data reporting. The figure below provides a high-level view of our RAPID™ technology solution that depicts how RAPID™ can meet your specific payment processing needs.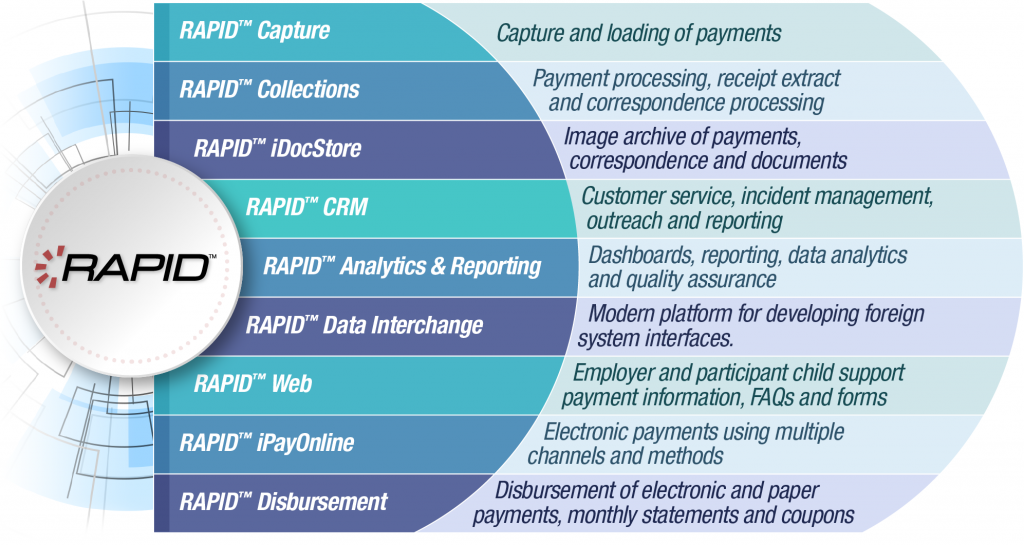 RAPID™ Capture – mailroom component leveraging OPEX single-stage mail-open/image-capture product for converting physical paper into digital envelopes for RAPID™ Collections to process.
RAPID™ Collections – automates the data capture process for all paper-based, electronic funds transfer (EFT) and international EFT/EDI payments, while reducing the time spent posting and researching payments. The solution is powered by Intelligent Remittance Recognition (IRR), a patented Informatix business rules engine for data recognition and decision making.
RAPID™ iDocStore – archives all (checks, remittances, invoices, correspondence and envelopes (including electronic payments)) scanned images to a repository where they are indexed and made searchable through robust search capabilities.
RAPID™ CRM –provides a unified, omnichannel (agent, IVR, email, web, messaging, social media) customer service experience integrating interactive voice response, customer service calls, and email requests.
RAPID™ Analytics & Reporting – provides transparency into the operation. It includes standard reports, dynamic dashboards for at-a-glance, real time and history statistics, and analytics tools for savvy users to perform data analysis and decision making.
RAPID™ Data Interchange – sophisticated and comprehensive platform for building interfaces to foreign systems and for handling the secure exchange of data between RAPID™ and those other systems. It is also capable of interoperating securely with systems that communicate and expose services via Web Service API, messaging middleware or Enterprise Server Bus.
RAPID™ Web – public facing web portalthat allows participants and employers the ability to perform online self-service actions.
RAPID™ iPayOnline – web payment application available to custodial parties, non-custodial parents and employers to make child support payments by ACH Debit (eCheck), credit and debit cards via Web and mobile devices.
RAPID™ Disbursement – encompasses the entire disbursement process from receipt of the disbursement instructions from the CSE system to the disbursement of paper and electronic payments.
Our customer service team is a key component to our payment processing operations. With each implementation, our trained customer service team works alongside the operational team to provide both live agent support and IVR support. We understand and uphold our "Customer First" culture, constantly striving to provide courteous and accurate responses to customer inquiries.
In March 2018, Informatix became the first company in the nation to host an SDU operation fully in the cloud with the implementation of RAPID™ at out production site. RAPID™ was deployed in a FedRAMP compliant, government cloud platform, leveraging Amazon Web Services (AWS). AWS is DoD SRG, FedRAMP, PCI DSS Level 1 and SOC 1, 2 and 3 certified. Moreover, it is HIPAA, HITECH and IRS 1075 compliant. The latest AWS SOC reports are downloadable here: https://aws.amazon.com/compliance/soc-faqs/.