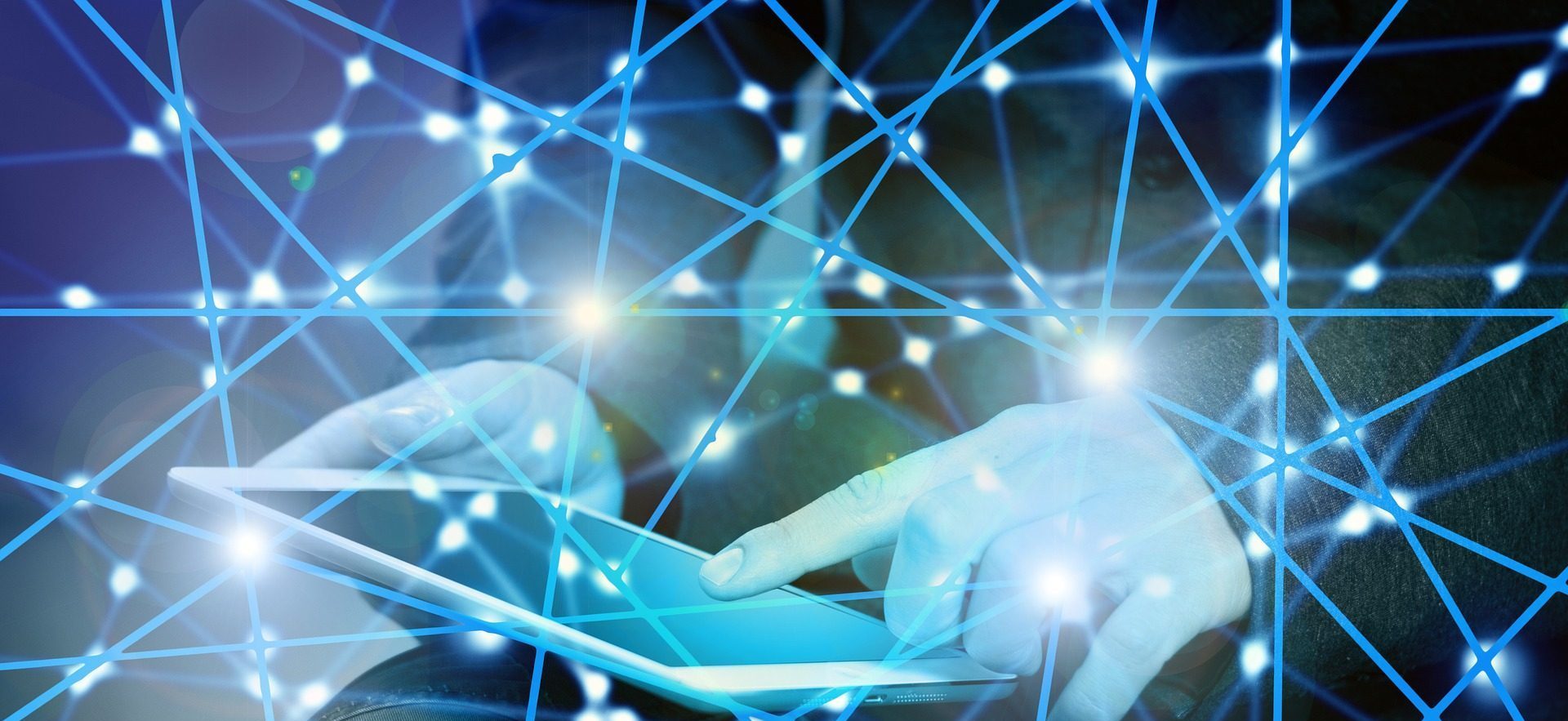 Informatix is the largest provider of Financial Institution Data Match (FIDM) Services in the country. Each quarter, Informatix locates over $100B in financial institution accounts for our state customers. We have been providing FIDM Services to state agencies since 1999, and currently partner with 57 state agencies to provide comprehensive FIDM (Data Match) Services. For over 20 years, we have supported our state partners with high quality, accurate and secure FIDM data, as they seek to increase collections for the constituents they serve.
Each quarter Informatix works with state agencies and financial institutions to identify assets for unpaid debt ranging from past due child support to unpaid taxes. To ensure financial institution participation in the program, legislation is required, and Informatix can assist our government partners with that process. Our innovative matching solution keeps proprietary and personal data safe and uncompromised while providing an effective tool for state agencies to recover unpaid debt.
Knowing that data integrity and security are of upmost importance, Informatix provides our customers with proven security measures and constantly evolving procedures and protocols for data exchange. Informatix encrypts data at rest and meets IRS Pub 1075, NIST and other federal guidelines to protect sensitive identifying information.
What Informatix Offers
Maximized Outreach Services
Informatix provides robust, comprehensive outreach to the financial community through a series of communications vehicles to inform them of new services and the ways in which they can convert to the new program requirements. We manage the registration and relationship with the financial institution and assist them with gaining access to the file transfer process.
State Obligor/Debtor Receipt and Format
Informatix accepts files from the states in many formats and manages the loading of that data into our database for matching purposes. All file transfers are completed using a secure encrypted file transfer method such as SFTP or FTPs.
Full File Transfer Support
Informatix offers secure file transfer processes to both our state agency partners and financial institutions to ensure all data transfers are encrypted. We offer secure Internet services and secure FTP protocols for all file transfers.
Result File Formatting
As the match data becomes available and is processed within our system, results are consolidated and returned electronically to the state in a pre-approved format. Result file processing can occur as frequently as daily to ensure fresh up to date data for collections purposes.
Data Sharing Component
Informatix acts as a broker on behalf of our customers and provides data sharing services for our child support customers. This allows assets to be identified across state lines to increase collections.
Lien/Levy
The most critical part of the FIDM process is to ensure that identified assets get collected on. Informatix' automated lien and levy processing assists states in collecting located assets. Using a secure website, state workers generate notices to the financial institutions and obligor/debtors. The system tracks the cases and gives states the option to issue liens at both in-state and multi-state financial institutions.
Parent Locate
On a daily basis, state and local child support enforcement staff need reliable tools to locate non-custodial parents and custodial parents to keep child support enforcement efforts moving, reducing the time children must subsist without needed support payments. Parent Locate provides vital tools to child support staff. Participating states provide their state data to update a single, shared locate database. Our database contains approximately 300 million records from sources such as state DMV's, food stamps, workers compensation, correctional institutions, and state and federal employers reporting new hire and wage data. These records can be searched on-line for immediate processing.
At Informatix, we commit to meeting and exceeding your program goals and providing you with an electronic data matching project that meets your high standards for excellence.
We match account data with over 12,500 financial institutions nationwide every quarter. Our attention to detail and responsive customer and technical service make us the vendor of choice for 57 state agencies. We currently provide FIDM Services to 36 Child Support Agencies, 18 Departments of Revenue and 3 additional state agencies serving Unemployment Insurance, State Debt Collection and IV-A Welfare. Informatix takes great pride in the work we do – and our customers consistently tell us we are doing a great job increasing collections, providing accurate data, and protecting highly sensitive information.
What Our Customers Say
For nearly 20 years, Informatix has been our FIDM service provider. We have experienced the highest level of customer service as well as consistent and reliable FI data matching. Together with Informatix, we have developed a strong FIDM Alliance program with numerous other states, resulting in robust matching and increased collections.

– Kim Lubbers, State of Michigan, Child Support, Central Operations Administrative Manager
Informatix has been our (FIDM) service provider since 2010. They have the highest level of customer service and are a very reliable partner in our FIDM reporting. They make the process very streamlined and efficient. I look forward to working with them more in the future.

– Karen McMillin, BankCorp South
We could not be more pleased! With this authority, we promised to increase our levy collections by $13M per year and have exceeded expectations every year. Couldn't do it without you!

– Susan Dukes, Deputy Director, Wisconsin Department of Revenue
For over 10 years, Informatix has provided the Interstate Data Exchange Consortium (IDEC) Parent Locator and (FIDM) services. They have always maintained a high level of commitment to customer service. In the four years that Mississippi has been the seat agency, the support from the staff during and after the transition has proven to be invaluable. Additionally, the staff members are knowledgeable, highly responsive, friendly, creative and committed to helping states increase child support collections.

– Michael Herndon, IDEC Director, and Natalie McSwain, Former IDEC Director, Mississippi Department of Human Services
Our Data Match Clients Served
With Informatix, our customers are assured of a vendor who understands the complexity of FIDM services and standards, has established relationships with over 12,500 participating financial institutions across the country, and knows the nuances of processing as well the critical security and confidential elements of FIDM services.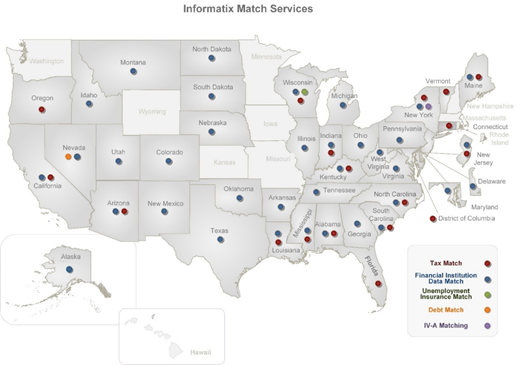 Contact Us
If you are a Financial Institution with questions regarding the program, please contact:
Data Match Operations
877-965-3436
If you are a government agency looking for more information, please contact: